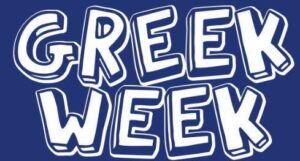 As Arkansas Tech University's on-campus school year came to an end, so did its on-campus activities.
Greek Week, which was scheduled for April 6 through 10, is among the activities canceled. Greek Week honors members of ATU's Greek Life organizations and includes a t-shirt competition and dance battle.
However, the most pivotal Greek Week event is the food drive. Greek Life partners directly with River Valley Food 4 Kids to donate non-perishable food items to help with its summer backpack program.
The cancellation of Greek Week has not only had an effect on the students directly involved but also River Valley Food 4 Kids.
"Historically, Greek Week has been a pivotal time to receive not only food donations from the students of ATU but also having them here at our warehouse volunteering with us, helps us prep for our summer distributions. Last year, they cleaned and organized and helped us double-bag bags. With this not being a viable option for this year, it puts us a bit behind schedule," Josh Dunbar, executive director of River Valley Food 4 Kids, said.
The donations from Greek Week help to offset the cost of the backpack program, which is something Dunbar is having to navigate during this time.
Currently, River Valley Food 4 Kids is distributing food to 900 children a week. This number has increased by 200 since the spread of COVID-19 caused schools in Arkansas to shut down. River Valley Food 4 Kids is currently partnered with three different school districts to ensure that children in need continue to receive food during this pivotal time.
Dunbar said there are a few ways people can help River Valley Food 4 Kids during this time of need. These include volunteering, donating money to offset the cost of food or donating kid-friendly food items directly.
More information is available at www.rivervalleyfood4kids.org.