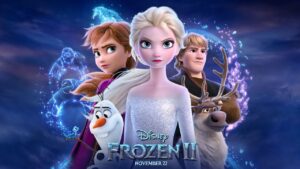 We "Let it Go" and sang Disney's triumph from mountain tops everywhere when "Frozen" premiered six years ago. It proved to be a worldwide phenomenon, causing a spike in Elsa and Sven baby names as well as a run on the popular ABC show "Once Upon a Time." Even as popularity faded, Disney kept the fire stoked with shorts such as "Frozen Fever" and "Olaf's Frozen Adventure" as well as a Lego series and plenty of merchandise to keep aspiring Annas and Elsas entertained.
"Frozen II" finally hit silver screens last year and proved to be another massive hit. I finally took the plunge in watching this movie after resisting it. I didn't understand the "Frozen" hype and didn't buy into it. I liked the movie, sure, and I watch it when I'm feeling particularly empowered or when I'm feeling the opposite. It's a great film, but after watching "Frozen II" the first time a couple of months ago, I got the feeling like we all should've just let it go and moved on.
However, after Disney+ released "Frozen II" early, I decided to take another chance on it. Boy am I glad I did!
"Frozen II" is gorgeous. It's a beautifully animated film that celebrates the love of sisters, finding the power to carry on against adversity and the power of self-love. Not only that, but it's refreshing to see a variety of colors and shapes and sizes in this film after "Frozen" was criticized as being too white. It was, and this film takes great pains to fix that, and I love it. Disney still has a long way to go, but here's to hoping that "Frozen II" is a step in the right direction.
"Frozen II" picks up three years after Elsa froze summer. Anna and Elsa are living happily in Arendelle. Kristoff and Sven are still adorable weirdos, and Kristoff wants to propose to Anna, but he can't find the way to do it. He is a dork, after all, and he keeps mucking it up. Elsa hears a voice calling from the mystical North Mountains and follows the voice where she meets the Northuldra people. She learns her mother was Northuldra and because of her mother's bravery in saving Agnar, who'd eventually become King of Arendelle, she was blessed with ice powers.
There's a lot of other stuff to unpack there like the spirits of the forest and the whole deal with a mythical place called Ahtohallan, but anything more than that would spoil it and I know some people haven't seen it yet.
What I love about this film is how complex it is. It expertly weaves multiple storylines together to form a cohesive narrative. Yes, some of it, like the beginning with young Anna and Elsa seem a bit revisionist from the first one, but most of the back story from "Frozen" was vague enough that Jennifer Lee took the little bits and ran with them. I loved the idea of Iduna (Anna and Elsa's mother) being Northuldra and I loved how the story was conscious enough to give both Anna and Elsa a goal to reach individually without the help of the other. It was a great way to keep the spirit of the first film going. Not to mention Kristoff ends up being the best boyfriend ever. Yes, he was just a tiny bit short shifted, but this has always been Anna and Elsa's story.
I will admit that I didn't like the music the first time I saw this film. I only liked "Into the Unknown," but still didn't see the hype. Again, boy was I wrong in my first assessment. The music is all equally strong and serves the purpose it was created to do. None of the songs burst forth like "Let it Go" and I think that was the entire point. Because of the multiple storylines and the way the movie is structured, a standout hit wouldn't have made sense. Each song must serve a purpose and each song did, though maybe Olaf's song "When I Get Older" and the big ensemble number at the beginning called "Some Things Never Change" could've been left out in the grand scheme of things, but they can be easily skipped over as they don't contribute much to the plot.
Here's to hoping an eventual "Frozen III" will focus on Kristoff and his journey and give our favorite sisters a break. They deserve one, though I wouldn't mind another story centered on Elsa. She is my favorite character, after all.