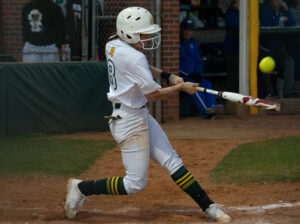 Many Arkansas Tech student-athletes shared the same feelings of shock and disappointment when their senior seasons came to an abrupt end last month.
"My first reaction was pure shock. The feeling that my career after 18 years of playing baseball comes to a[n] abrupt end through a text message during practice was devastating," Matthew Robbins of Mountain Home said.
"All the hard work, long practice hours, traveling, and memories all came to a halt. It was as if the world stopped," he said.
"My first reaction after this news was to play catch with a couple of seniors. Simply playing catch brought a little bit of hope and happiness to my life. It's more than just a game to us athletes. It's the long hours of work and reputation, the bus rides, the friendships made, the highs the lows. All for the simplistic love of a game," Robbins said.
The COVID-19 virus has affected people across the globe on a major scale. Sporting events have been canceled or postponed for pro teams along with high school and college teams.
On March 14 the spring sports athletes had their season come to an abrupt close. For the seniors, this meant the end of their college athletic career. Baseball, tennis, softball and golf all were canceled in an instant.
"How I felt when I found out the season was canceled is something that is extremely hard to put into words," Ashley Landry,  of Krum, Texas.
"At first I think it was more of a feeling of shock, and I didn't believe that it was actually happening. Then once it finally hit me that we wouldn't be playing any more games, or even practicing this year, I was overwhelmed by sadness. Knowing that my softball career was having to come to an end like this, was very hard for me to grasp and understand," Landry said.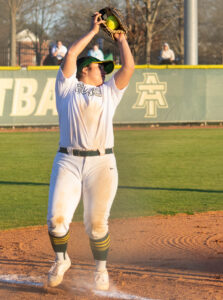 "With the season being cut short it's hard for me to think about without crying. The team has worked so hard this season we just want to play softball," Paige Mendoza, of Fort Smith, Arkansas, said.
"I felt cheated at first. But after a while, I understand that it's more than that. People's lives and well-being are at stake. After realizing that, I accepted the decision," Robbins said.
"When it comes to humanity, I felt that if my season were to get cut short, I was willing to give that up to make sure that humanity can be healthy and safe," he said.
An athlete's senior season is one last chance to play the game he or she loves with their teammates, one last chance to put everything they have into the sport.
"My feelings about this season being cut short are just overall sadness and disappointment. As an athlete, I think your senior season is something that you look forward to your whole career and is the time that you give the sport you love every last thing you have. Knowing that that's something that I wasn't given my complete time to do is really hard," Landry said.
"I feel really sad this is how it ended, but overall I have no regrets. I gave this game every ounce of my soul day in and day out and it taught me a lot about myself," Elijah Boyer, of Overland Park, Kansas said.
A common thread throughout all the seniors' responses was the feeling of family they had with their teammates. It was not just about the batting averages, matches won, or strokes taken but the relationships formed with their teammates on bus rides, during practices and the moments in between. It was the encouragement from their coaches to play their hardest during games and work hard in the classroom and their desire to see the players succeed.
"I had jokingly told one of my professors the day before that I might have just played in my last tournament. The next morning, all of the cancellations started happening. I saw the NCAA cancel basketball tournaments. Later, I read the statement regarding fall and spring sports," Makenzie Douglas of Clarksville said.
"At the time I was alone in my apartment. I remember after I read it, I wanted to text my coach and ask her if this was real. She was having a meeting about our season so I decided to wait. I texted my teammates and my mom and showed them what I had seen. That's when everything started to feel like it was crumbling. I realized that my season and my career was over. I had taken my last van ride with the team, I had played my last practice round, and I had played my last tournament. Everything that my team and I had worked so hard for was over with one decision. We don't get a chance to win a National Championship and we don't get a chance to win our 6th or 7th conference title in a row. I didn't get to end my career on my own terms. Everything was (and still kind of is) uncertain," Douglas recalled.
"Coach called us into a meeting and told us the news and told us how many uncertainties there were. I have never felt as helpless, disappointed, and heartbroken as I was in that moment. My teammates tried to comfort me, but I thought I was in a dream and I would wake up the next day and it wouldn't be real. Later on, it hit me that my coach was feeling the same way I was. This was her last year of coaching. We had made a goal at the beginning of the second semester that we were going to try our best to end her coaching career and my career with a national championship. Neither one of us gets that opportunity now. I might get eligibility back, but my coach doesn't get her semester of coaching back," she said.
"I think this entire situation really puts things into perspective. The phrase 'Enjoy what you have while you have it' comes to mind. My team and I planned on having more tournaments to play. I had planned on finishing my career at the national championship and getting to walk up the 18th hole at my last tournament and making my final putt of my college career. I had always imagined that when that putt dropped I would be sad but I would be proud of my career and what I had accomplished — I would have closure," Douglas said.
"I still am proud of who I have become and who I have grown to be because of this university and my sport. This situation happened for a reason and I will use it as an opportunity to grow stronger," she said. "My desire to one day play on the LPGA tour has not disappeared. That is still one of my dreams — no matter how long it takes to get there."