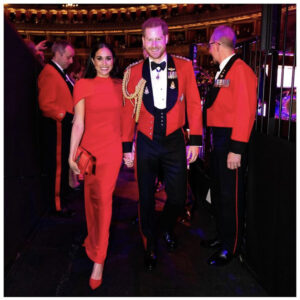 It has been increasingly publicized that there was a great split in Britain recently that will go down in history as an event that was one of a kind, and the effects that this split has had on the country have expanded beyond the borders of Britain itself.
That's right, you know what we are talking about: Megxit.
In January, the BBC announced that the lovely couple, Prince Harry and Meghan Markle, would be stepping back from their senior roles in the Royal Family and would thereafter split their time between the UK and North America.
The Duke and Duchess of Sussex wanted to have financial independence away from the crown. Though the couple made this claim, they still officially told BBC that they would do so all "while continuing to fully support Her Majesty, The Queen."
Despite the statement that Harry and Meghan made to support Queen Elizabeth even in their resignation, the BBC points out that due to the lack of consultation on this matter, Buckingham Palace was "disappointed." Such disappointment should not be taken lightly, either.
Now, you might be thinking, why does this even matter? We live in the U.S. We got rid of Britain a long time ago. Well, we wanted to highlight that what the Duke and Duchess did was an action that required great strength. We fully endorse their decision to leave their senior roles and step back from the monarchy.
The pressure of growing up in any royal family, let alone The Royal Family, would be something far too insurmountable for most people to handle. Prince Harry had previously admitted that the pressure that the media's spotlight had on their relationship was something that they had been struggling with. "I lost my mother and now I watch my wife falling victim to the same powerful forces," Harry said.
It is not uncommon for the media to meddle in the relationships of celebrities all over the world in starting rumors or releasing private information to the public. Being that Meghan and Harry are two of the most famous and favored people not only in British headlines but also those globally, they had a large weight on their shoulders in trying to present themselves in a proper manner.
This royal couple stepping down accomplishes what much of the media aims to exploit, the humanness to public figures. For Prince Harry, his priorities were set on his relationship. Being that he and Meghan had just recently become parents to their son Archie, Prince Harry cared more about the family that he was beginning to create and the future potential than the past traditional family that he was leaving behind in the Palace.
We applaud Harry because he wholeheartedly supports the women in his life no matter what. It takes a special kind of man to be able to make the kind of decision that Harry made in pursuit of having a happier and healthier family.
Can we blame him, though? He was sixth in line for the throne. Surely becoming king was nowhere near the first thing on his mind, but instead, the power that he has is being a husband and a father.
However, let us not forget the wonderful Meghan Markle. She was an actress in Canada prior to meeting her Prince Charming, and she was beyond successful. An independent, strong, beautiful woman like her is the kind of woman that The Royal Family could use more of.
Meghan has served as a role model for so many women internationally because she is one of the first and only biracial people, let alone women, to have a position of power to the extent that she has. Again, all the more reason for someone like her to be a part of The Royal Family. Our world is diverse, and it needs to be represented as such in every institution possible.
The reactions of the other royals have been slightly problematic, unfortunately, because it seems that Meghan has been the least favorite of all the royal wives. Prince William cheated on Kate Middleton, and The Royals seemed to not bat an eye, but heaven forbid that the monarchy gets infiltrated by a woman of color. That is just too much minority representation for the great colonizing country to have in power.
The move that Meghan and Harry made was a smart one. When people like themselves are in a position where there are so many eyes on them, it is easy to forget that they are humans that live and breathe just as we do. Meghan and Harry also have wants and needs and should be allowed to explore their desires without having the public breathing down their necks.
The decision that they made, although it caused some waves and likely will still change the course of history regarding how the monarchy pans out, was a courageous one that should be celebrated and supported rather than ridiculed and looked down upon.