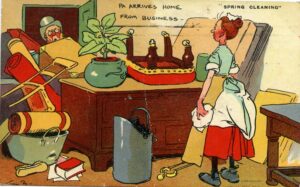 It's about that time of the year again where the sun is starting to shine more and the air is growing warmer, which also means it's time to bring out a broom: it's spring cleaning time.
While most people would rather stay glued to the comfort of their bed, others are reaping the surprising benefits of spring cleaning.
For example, cluttered homes can rake in a lot of dust. This can cause problems like respiratory issues. Dust and pet dander are the main two triggers for asthma, which is also significant among children. A solution to this is to vacuum frequently and to avoid cleaning products that contain citrus or pine. Those kinds of products contain volatile organic compounds, which can aggravate asthma even more than dust itself.
Another benefit spring cleaning can bring, besides reducing respiratory issues, is reducing stress. Cleaning can help free yourself from internal mental clutter. Studies have shown that doing housework for as little as 20 minutes can reduce your stress and anxiety by up to 20 percent.
Also, cleaning can improve your mood and make you feel accomplished. A tidy home can naturally boost endorphins in the brain and improve energy levels. One study revealed that having a clean home provided positive short-term and long-term benefits for mental health. This included reducing the risk of depression.
However, spring cleaning doesn't have to be just about physical space—it can be mental as well. Introduce healthy habits into your life or remove yourself from toxic relationships. Go outside more often or venture outside your comfort zone and try something new.
Spring signifies renewal, so how about switching things up?