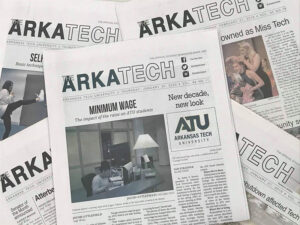 Arkansas Tech University's student newspaper, The Arka Tech, won 17 awards in recent Arkansas College Media Association competition.
In all, 11 staffers placed in the competition, which included entries published during the 2019 calendar year.
Camden Burris won first and third place in online review writing and second and third in newspaper review writing.
Hannah Butler won first place in meeting coverage and second place in editorial writing, both in the newspaper division, and an honorable mention in online review writing.
Alex Kirchner placed first in spot news photography for his photo of the Williamson Hall fire.
Lainey Boone won second place in newspaper personality profiles and Sydney Hayes placed second in online personality profiles.
Shelby Arnold won second place in online commentary writing while Tara Espinoza placed third in the same category.
Tennyson Douglas placed second in newspaper sports photos and honorable mention awards went to Faith Brown and George Clark for newspaper editorial cartoons and newspaper comic strips, respectively.
Other awards included a second-place award for The Arka Tech staff in newspaper in-depth reporting and staff writer Jacob Littlefield and contributing writer Dustin Wright placed third in the same category.
Student journalists from 10 Arkansas colleges and universities submitted entries in newspaper, online, yearbook, literary magazine and broadcast categories in the annual competition.
Editor's Note: This article was submitted by Tommy Mumert, ATU assistant professor of journalism, Arka Tech advisor and former director of the ATU news bureau (1989-2007). Image courtesy of The Arka Tech Facebook page.