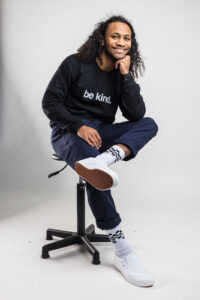 The defining moment of Arkansas Tech University freshman Nigel Lewis' life was a tragedy that motivated him to earn a place among the most outstanding young African American scholars in the country.
Memories of Niesha, his 2-year old sister who lost her life Oct. 3, 2008, as result of an automobile accident, helped spur Lewis to a record of academic success and community service that made him a Jackie Robinson Scholar.
"For a long time, I used to ask why," said Lewis. "Why did it have to be her? Why couldn't it be me? I know I was young, but I was just sad for a long time. She was there, and I was always around her, and then she just left. I couldn't understand that. After a while, I couldn't be sad because she wouldn't want me to be sad. She would want me to live my life and be happy. That has helped define me as a person. I treat every day like it's my last. I talk to people like it's my last time seeing them. I never want to leave on a bad note. I want people to live and be happy. I want them to want to live. I try to be the sunshine in the storm for other people."
—
Born in Lake Village and raised in Hamburg, Lewis was salutatorian at Hamburg High School in spring 2019, but it wasn't until he arrived at ATU that he fully connected his academic goals with his life passions.
"Honestly, I didn't want to come to college," said Lewis. "I'm good in school, but it never necessarily interested me. When I came here, I started out majoring in mechanical engineering, but my heart wasn't it. On the second day of school, I went and talked to my advisor. Now I'm majoring in sociology with a minor in psychology. I've always wanted to help people, and I feel like that's how I can help people. Since then, it's been going well. You just have to find where you fit in."
ATU proved to be the right fit for Lewis.
"I didn't want to go to a big campus because that is overwhelming to me," said Lewis. "I feel like I matter as a person here. I don't feel like it is a race thing (at ATU). I feel like it is more than that. We're a family regardless of what we are. It's not just white and black. We're all doing things together. My professors have been very helpful, and I couldn't be more grateful. I can go talk to them, and it's not like they are my professor. It's like talking to somebody like me."
—
The Jackie Robinson Scholar program is administered by the Jackie Robinson Foundation. Founded in 1973 by Robinson's widow, Rachel Robinson, the Jackie Robinson Foundation carries on the legacy of the Brooklyn Dodgers' star who broke the color barrier in Major League Baseball in 1947.
The foundation states on its website that it provides "generous, multi-year scholarship awards coupled with a comprehensive set of support services to highly motivated JRF Scholars."
Lewis' path to becoming a Jackie Robinson Scholar began when his mother, Bridget, encouraged him to apply.
"Growing up being a baseball player, I always wanted to be (Jackie Robinson)," said Lewis. "I never got to watch him, but I read and heard so much about him."
Approximately 2,000 individuals applied to become a Jackie Robinson Scholar in 2019. Only 50 were selected. Lewis was the only Arkansan chosen for the honor in 2019, and he is the only Jackie Robinson Scholar among the Class of 2023 who selected an Arkansas university.
"I never thought I would get it," said Lewis. "They called and e-mailed to tell me I was a semifinalist for it. They asked me if I could come to Dallas for an interview. There was a long table, and there were five of them. It was kind of intimidating, I'm not going to lie. I know they are all higher up, and I'm just this person. I'm not inferior to them, but that's how it feels because they have this power. Each person asked me three questions, and I hoped my answers were good enough."
They were, and the benefits of becoming a Jackie Robinson Scholar have already been great for Lewis.
"I feel like it's changed my life," said Lewis about the Jackie Robinson Scholar program. "I've made lifelong friends from other states and done things I wouldn't get to do otherwise."
Among those experiences was his first-ever trip to New York City for a conference with his fellow Jackie Robinson Scholars in late February.
"You have to stand out, because Jackie Robinson stood out," said Lewis. "You have to have determination and integrity. You have to work hard. You can't just rely on other people to hand you things. But it's not just in the classroom. It's also outside the classroom. You don't get the scholarship just based on what your grades are. You get it based on what you are involved in and things you do in the community. They look at you as a total person."
As a Jackie Robinson Scholar, Lewis is in the company of students from institutions such as Columbia University, Duke University, Harvard University, the Massachusetts Institute of Technology, Stanford University, the University of Pennsylvania and the University of Virginia.
There are also representatives from Robinson's alma mater, the University of California, Los Angeles (UCLA), and prestigious historically black colleges and universities such as Hampton University, Howard University and Morehouse College.
"Honored is an understatement," said Lewis when asked what it is like to keep that kind of company. "They are going to these big prestigious schools that you hear about all the time, but I feel like I can also bring knowledge to them. I'm going to a small school, and I'm showing them I can do this coming from where I come from. Half of them don't even know where Arkansas is, so when I can show them I am on an equal playing field, that's a big accomplishment. I feel like I need to be able to do that, and they need to receive that from me. Just because I go to a smaller school doesn't mean I'm not one of them."
—
The Jackie Robinson Scholars of today stand on the shoulders of a man who was born in Cairo, Ga., in 1919 to a family of sharecroppers. After service in the U.S. Army during World War II, Robinson played for the Kansas City Monarchs of the Negro American League in 1945. Two years later, he was voted National League rookie of the year in recognition of his play for the Brooklyn Dodgers. He earned NL most valuable player honors in 1949, and he was inducted into the National Baseball Hall of Fame and Museum in Cooperstown, N.Y., in 1962.
"He pretty much set the foundation for us," said Lewis. "We saw he can do it, so why can't we do it? When you see someone else do something you never thought you could do, it makes you think you can do it as well. He's not just an inspiration to baseball players. I feel like that should be an inspiration to any person of color who is trying to excel in what they are doing. If he can defy the odds, I can defy the odds. If he can break down barriers, I should try to continue his legacy."
Such matters are personal for Lewis.
"It's hard," said Lewis when asked what it is like to be a young African American man in 2020. "People expect different things from you. When you stay true to yourself and be who you are, it's hard. If you are well educated and speak properly, black people are going to call you too white. But if you aren't that, white people call you too black. It's hard to distinguish between the two. I know how to speak properly, and some see that as talking white. I don't see it as talking white. I'm just well educated, and I express that.
"Out in society, you walk by somebody, and they pull their belongings closer," continued Lewis. "I have no intentions of hurting them, but they expect that of you. We're expected to be athletes, rappers or drug dealers. I don't feel like it should be that way. Not everybody sees it that way. I know that for a fact. But those stereotypes and stigmas are out there, and people do it without even noticing. We've come a long way, but things are still not where they should be. Maybe they never will be, but I feel like it can get better and it will get better."
—
Lewis believes graduate school might be part of his future. Regardless of where he lands or what he pursues, he'll always hear a certain voice guiding his journey.
"I'm living life for me, but I'm also living it for Niesha because she didn't get the chance," said Lewis. "I'm thinking about her when I make decisions. I think about what is best for me, and would she want me to do this. If I feel like that's the case, I do it. A lot of the things I do are for her."